Restarting trials - help needed!
As you may have seen, clubs are now permitted to start trials again providing certain conditions are met. These are shown in the next item below. This does add a little extra to the workload and, due to work demands for our current Secretary / Membership Secretary / Results team / Website administrator / Facebook group manager, this is all a little too much. So, for events to start again some help is needed. Let's say that again - this time with emphasis - SOME HELP IS NEEDED!
So you're still reading? Well, if you're one of the one per cent who does wish to contribute so that the other 99% can simply turn up and ride, what can you do to help?  We are currently short of a Membership Secretary to handle, er, memberships and Event Secretaries. Both jobs involve mostly form-filling and box-ticking so would suit somebody with a little free time and good organisational skills. Naturally, we won't just say, 'Get on with it!' - but will give you any help and support you need. If you think that you may be able to help get us back off the road, please give me a call. Occasionally, someone might even thank you.
Starting again…
We've received notification from the ACU today giving details of a VERY restricted format for the resumption of our sport. These include the following and will be reviewed during August:
• Adult (over-16) riders only - now removed

• Maximum entry of 40 riders - now removed

• Rider's home address must be within 40 miles of a club's headquarters - now removed

• No cash handling on the day
As a club, Darwen will examine what the possibilities are for future events and will make any announcements here and on our Facebook page. The full document from the ACU can be downloaded here

Club membership and ACU Registration - 2020
Membership valid through 2021
Due to the suspension of activities during the CV-19 pandemic, the club has decided that 2020 memberships will be extended for the whole of 2021.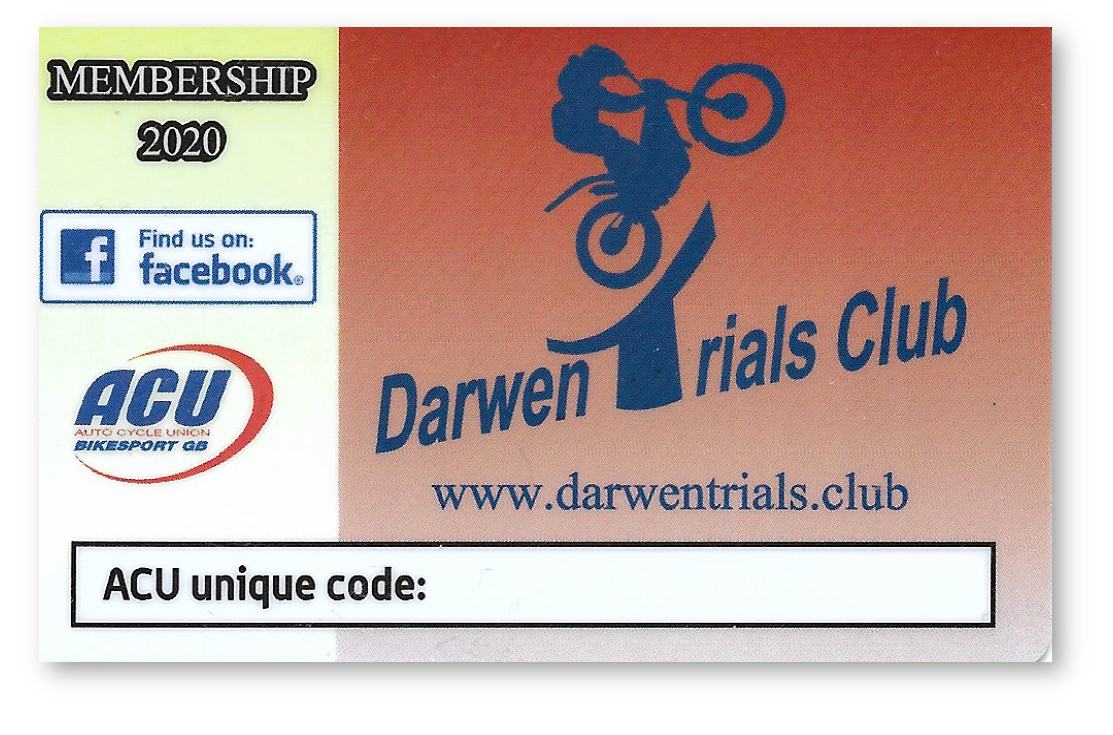 To be able to enter a trial organised by an ACU club, a rider must be a member of an ACU affiliated club and have a Trials Registration with the ACU. Joining both the club and the ACU should be done through the ACU website. This may be a two stage process as you will need to wait until your club membership is validated by the club. You can begin the process by visiting the ACU website and completing the application process. Click here.
ACU Renewals - existing members

If you are renewing your ACU registration, you do not need a code. Simply complete the ACU registration process - click here - and indicate whether you wish to pay your Darwen membership. Your ACU registration will be approved ONLY when your Darwen subscription is completed. Darwen membership taken through the ACU website will cost £6 to include the cost of administration.
Please note that as we do not currently have a Membership Secretary, membership cards will not be posted but can be collected at an event.