Jim Sandiford Memorial Trial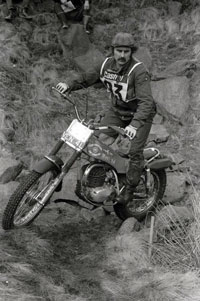 Darwen Trials Club is delighted to announce that our 2019 Jim Sandiford Memorial Trial will be held at Lane Ends, Hapton on August 18th. This year's event promises to be a very special occasion as we welcome full involvement from the Sandiford family.
A works trials rider for both BSA and Greeves, Jim Sandiford was a member of Great Britain's ISDT Trophy team throughout the 1960s and 70s, winning 10 Gold Medals and was the first rider to win one in each of the capacity classes. He is perhaps best remembered for developing Montesa's trials bikes and helping to establish the Spanish make's reputation in the UK. The Sandiford name is still prominent on the UK trials and enduro scene through the involvement of son Martin and daughter Caroline.
For this event, Caroline has taken on the vital organisational role as Secretary of the Meeting and Martin will be using his many years of competition experience in leading the section plotting team. Caroline and Martin's mum, Alwyn, will also be lending a hand, too.
Full details of the trial are on our competitions page.
Our next trial - July 19th
Evening Series - Round 3


Sign-on: 5pm
Start time: 6pm
Location: Warmden Quarry, Accrington BB5 2DL

Directions
From the M65
Leave the M65 at Junction 8 (signposted Bury, Manchester A56), take the exit for the A56 and travel towards Haslingden for approximately 2 miles. Leave this road when you see a sign for Mitchell's House WTW. Park through the gate.

From Haslingden
Follow the A56 towards the M65 motorway. After passing the roundabout at Rising Bridge, you will pass Warmden Quarry to your right as you drop down towards the M65. Keep on the A56 until you come to a roundabout at Huncoat. Leave the A56 here then follow the signs to rejoin it in the opposite direction. As you climb the hill you will see a sign marked 'Mitchells House WTW'. Leave the road here and park beyond the cattle grid.

Observers, please?

As always, it would be appreciated if you are able to give up a few hours of your time to support our members by acting as an observer. Please contact Chris Chew (mob: 07841071375)

Save time on the day - download and complete your entry details in the comfort of your home…
2019 Membership
It's getting to that time of year again…
The good news is that membership fees have been held down to their current levels for another year.
Renew Darwen membership at a competition
2019 Darwen membership cards will be availaible at our final trial of 2018 at Warmden Quarry on December 2nd. Payment at an event will be at the discounted rate of £5 reflecting the saving on the cost of postage etc. This will give you a card with a code which you need to get your ACU Registration processed.
Renew online
You can also renew online through the ACU website when you renew your ACU Registration. You will need a credit card for payment.
Alan Waring
Sadly, we would like to pass on the news that a longstanding member of old, Alan Waring, passed away on November 30th. Known as 'Our Al', he was active in the days of Fred Parkington and Brian Walmsley. His funeral will be at Accrington Crematorium on Decenber 11th at 11 o'clock.
Annual General Meeting - November 1st
This year's AGM took place on Wednesday, 15th November at the Fisherman's Retreat, Ramsbottom and was attended by eight members.
The following officials were appointed for the coming year:
Chairman - Steve Collinson, Vice-Chairman - Barry Sanderson, Treasurer - Steve Collinson, Secretary - Alex Sykes, Membership Secretary - Catherine Sagar, Publicity Secretary - Barry Sanderson, Observer Organiser - Chris Chew.
Full detail will appear here shortly
ACU Licences
Just a reminder that all riders in Darwen Trials Club events are required to have a current ACU licence - officially an ACU Registration. These can be obtained either through the club's Membership Secretary, Ian Capper, or directly from the ACU. If you are registering for the first time through the ACU, you will need to obtain a club code from Ian and also submit a recent passport-style photo.
ACU registration costs £10 a year for both adult and youth members and provides insurance coverage during competitions. An application form can be downloaded below. It is club policy to check licences at signing-on for all events.