Our next trial - September 22nd
Ann Isherwood Memorial Trial


START / VENUE: 11am at Standlees Farm, Ashworth Road, Rochdale. SatNav – OL11 5UN

COURSES: Expert, Intermediate, Clubman, Easy. Courses close at 3pm. The Easy course will be more challenging than our usual Easy courses at club trials - there will be no 50/50 course. Sorry, but the Easy course will not be suitable for absolute beginners.

Sign-on: 10am
Start time 11am

ENTRIES / FEE: Entry Fees: £20 Adult, £10 Under 16 - Cheques or money orders should be made payable to Darwen Motorcycle Club Ltd. Adult entry fees include a £5 charitable donation towards Cancer Research.

Observers, please?

As always, it would be appreciated if you are able to give up a few hours of your time to support our by acting as an observer. You will also receive £20 in recognition of your support. Please contact Chris Chew (mob: 07841071375)

Save time on the day - download and complete your entry details in the comfort of your home…

 
2019 Membership
It's getting to that time of year again…
The good news is that membership fees have been held down to their current levels for another year.
Renew Darwen membership at a competition
2019 Darwen membership cards will be availaible at our final trial of 2018 at Warmden Quarry on December 2nd. Payment at an event will be at the discounted rate of £5 reflecting the saving on the cost of postage etc. This will give you a card with a code which you need to get your ACU Registration processed.
Renew online
You can also renew online through the ACU website when you renew your ACU Registration. You will need a credit card for payment.
Alan Waring
Sadly, we would like to pass on the news that a longstanding member of old, Alan Waring, passed away on November 30th. Known as 'Our Al', he was active in the days of Fred Parkington and Brian Walmsley. His funeral will be at Accrington Crematorium on Decenber 11th at 11 o'clock.
Annual General Meeting - November 1st
This year's AGM took place on Wednesday, 15th November at the Fisherman's Retreat, Ramsbottom and was attended by eight members.
The following officials were appointed for the coming year:
Chairman - Steve Collinson, Vice-Chairman - Barry Sanderson, Treasurer - Steve Collinson, Secretary - Alex Sykes, Membership Secretary - Catherine Sagar, Publicity Secretary - Barry Sanderson, Observer Organiser - Chris Chew.
Full detail will appear here shortly
ACU Licences
Just a reminder that all riders in Darwen Trials Club events are required to have a current ACU licence - officially an ACU Registration. These can be obtained either through the club's Membership Secretary, Ian Capper, or directly from the ACU. If you are registering for the first time through the ACU, you will need to obtain a club code from Ian and also submit a recent passport-style photo.
ACU registration costs £10 a year for both adult and youth members and provides insurance coverage during competitions. An application form can be downloaded below. It is club policy to check licences at signing-on for all events.
How can I help?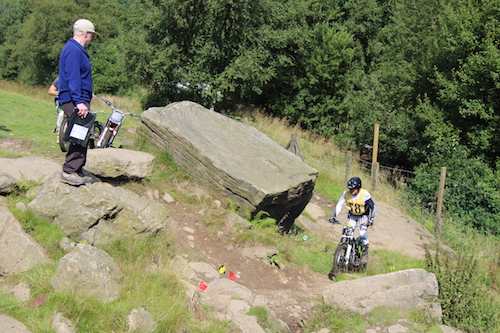 Of course, we would all like to spend our time riding in well-planned events on challenging terrain with friendly officials and efficient observers. But none of this happens without volunteers prepared to put in a few hours of work so that you can enjoy yourselves fully. 
What you can do…
Land - If you own/have access to/know of any suitable land, please let us know as we're always on the lookout for fresh land to use for our trials. 
Observers - Injured? bike broken? Trial's too easy / difficult? Why not give it a rest and see trials from the other side? Love standing out in the wind and rain getting abuse polite queries from riders? We can guarantee that your time won't be wasted and you'll be able to see things from the other side of the scorecard. Chris Chew is our Observer Co-ordinator - so, please, give him a call on 07841 071375. You might even get rewarded!
Skills to spare - there's also lots you can do to help the club in other ways - helping beginners / young riders learn the skills of the sport. Again, please, get in touch and we'll find you somewhere you can help.