Boxing Day Charity Trial
Start List -
Boxing Day Charity Trial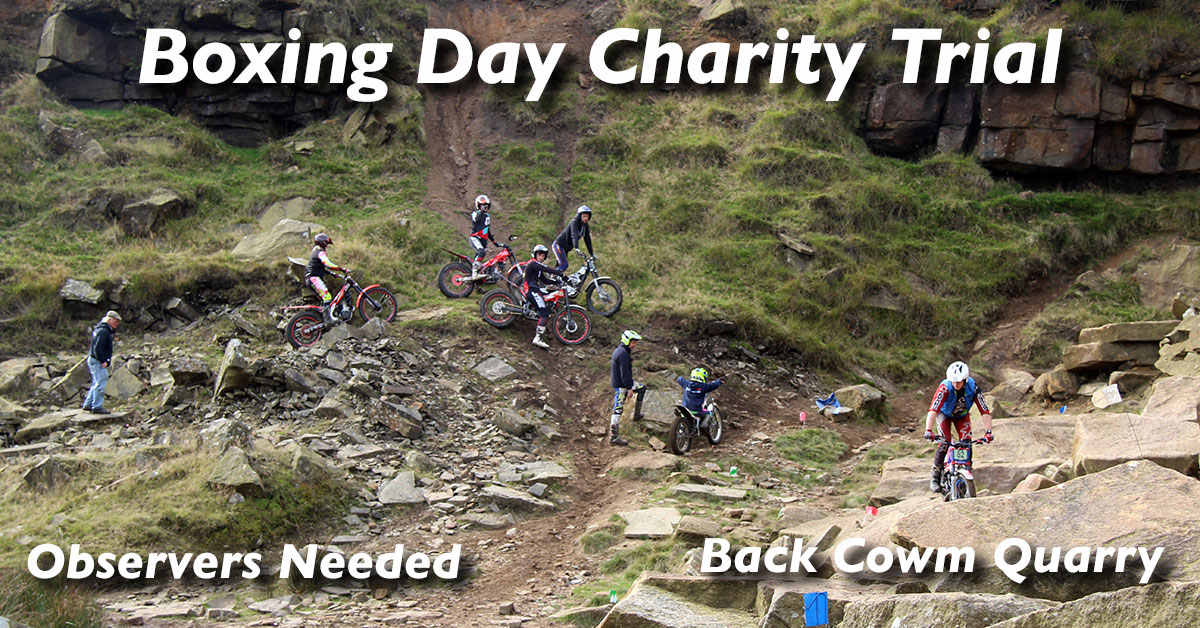 Back with a bang - so, come on - let's get a full entry list for a quality event.
In view of the likelihood that this will be a very popular and over-subscribed event, and with the intention of offering a ride to the very many riders who have supported the Darwen and Rochdale clubs over the years, these riders will be given priority entry.
It should also be noted that current HM Government advice is that residents of Tier 3 areas 'avoid travelling outside your area and reduce the number of journeys you make wherever possible.'
Limited Entry - 60 Riders only
Guaranteed Entry if you bring an observer
Online Entry through ACU website
Darwen Trials Club members only
Expert - Intermediate - Novice - 50/50 - (Not so) Easy routes
We are planning for 10 sections ONLY IF WE HAVE OBSERVERS. Riders - please help out if you can recruit an observer.
50/50 riders please note - as this is a Championship trial, the Novice sections will not be 'detuned' and will be tougher than at our usual club trials.
Entries are now open and close Thursday 20th December
Full details and entry on the ACU website - click
here
Start List -
AGM - 2019
Our AGM took place on November 29th at the Fisherman's Retreat, Ramsbottom.
A copy of the minutes of the meeting are below but, in brief, the following:
There is still a vacancy for a Chairman and a Vice-Chairman following Steve Collinson and Barry Sanderson stepping down after many years of service to the club.
The club was financially healthy with a stable level of funds in the bank.
Membership Fees for 2020 will remain at their current level.
Entry fees will be held at current levels however these may need to be reviewed as and when necessary in the light of insurance and other fees etc.
Full minutes are available here -

AGM minutes 2019